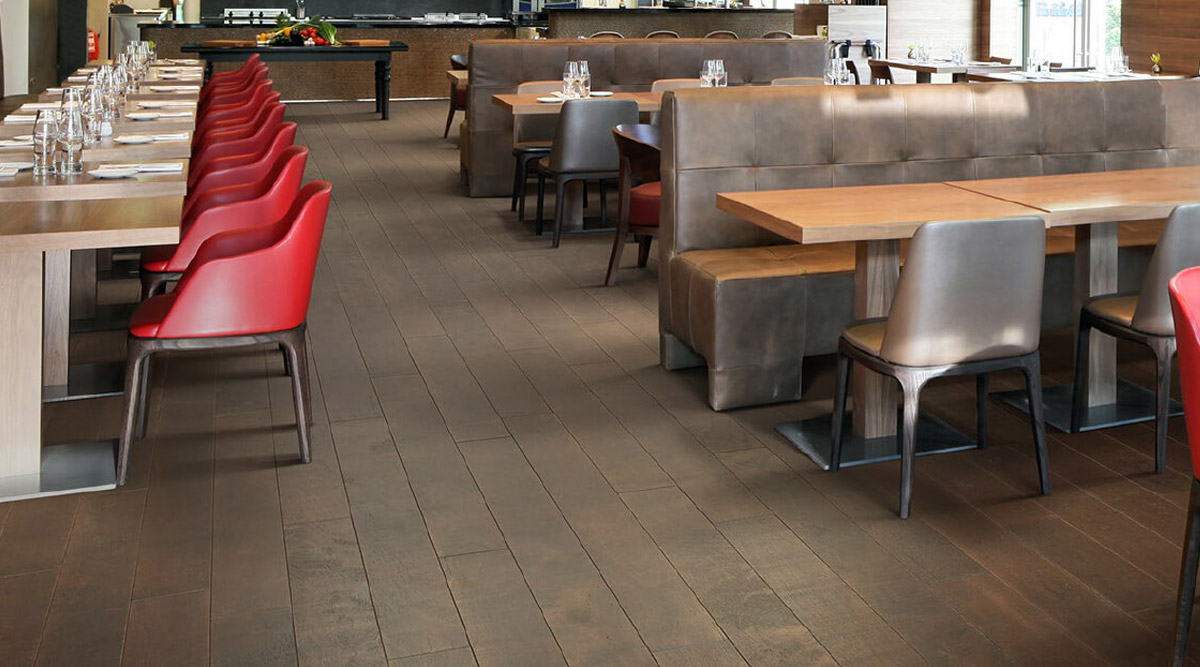 Four Fresh Product Lines Added to Inventory
12.7.18
When there is a new high-performing flooring out there, Michael Halebian & Co. is going to find it and then stock it. Here are our newest additions for rubber, hardwood, luxury vinyl tile and homogenous vinyl tile.
Advanced Edge Sports Flooring is Michael Halebian & Co.'s private brand of athletic flooring, made from post-consumer tire rubber. Available in rolls or as interlocking tiles, we hold the six most popular colors in stock for next-day delivery. Eleven additional colors are available through special order. Advanced Edge is manufactured to meet our high standards for durability, appearance and performance.
Next-day delivery to dealers allows them to meet the demands of today's average consumer, who expects to purchase and install new flooring in the shortest timeframe possible. With our interlocking titles, dealers' DIY customers can easily install the flooring themselves. Common residential applications include exercise rooms and children's playrooms. It's also ideal for commercial settings looking for something water resistant, anti-slip, easy to maintain and sound absorbent.
Hemisphere Hardwood Flooring's new Covelo Canyon Collection is manufactured using kupay, a wood from Paraguay that is harvested to meet the certification standards of the Forest Stewardship Council. That fact distinguishes it from other hardwood flooring lines. Hemisphere starts with the natural beauty of wood and then improves upon it with 10 "modern rustic" colors and three textures: skip sawn, wire brush and hand-sculpted. A low-gloss oil finish and tailored edges complete the look.
This is an ideal choice for high-end and multi-family residential use, and for anyone looking for a sophisticated and contemporary feel. This line works well in both humid and dry environments, is approved for use over radiant heat and includes a 50-year residential warranty. We encourage dealers to ask us about next-day delivery for their customers' ultimate satisfaction.
EarthWerks is a welcome addition to our LVT offerings. The manufacturer describes the product as "Flooring inspired by nature." You can see that in the color selections. Plus, they offer different patterns and looks from what we've seen elsewhere. We hold ample stock so we can make this product readily available to dealers and specifiers.
Applications are broad — including residential, retail, healthcare, schools and restaurants — thanks to EarthWerks' Tuff Shield double-coating method, which improves strength and durability. It is waterproof, low-maintenance, and kid- and pet-friendly. For clients and customers looking for a greener option, EarthWerks products are made from recycled products and are recyclable, and even can be repurposed to be used again in another space. 
TOLI's FasolPlus homogeneous vinyl tile (HVT) is a specifier's dream. More than 30 colors are available to coordinate with any design scheme. We are holding eight of the most popular colors (the neutrals) in stock as part of our quick-ship program. The other colors — including reds, greens, purples and blues — can easily be special ordered. 
These commercial tiles measure 18" by 18" by 3 mm. This larger-than-normal size eliminates 60% of the seams found with standard VCT and it is quieter underfoot than typical VCT. Also, the pattern goes all the way through the tile for longer wear. It is FloorScore certified and ISO 14001 and ISO 9001 certified.
Contact us at 800-631-4115 for more information on any of these new lines or to place an order.
View Our Products
Ready to Get Started?
Contact Us